Many apartment dwellers are reluctant to host a dinner party for their friends and relatives due to space concerns. We've all been there – it can be overwhelming imagining hosting your loved ones in an apartment, but it doesn't have to be!
If you plan out your dinner party ahead of time, use your whole space, creatively set your scene, and keep it simple you'll be able to throw a wonderful, stress-free event that your friends and family will be sure to enjoy.
In this post, we'll cover each of these ideas in depth, and by the end you should be equipped to go out and plan the perfect dinner party for your apartment!
Use Your Whole Space
You don't have to be confined to just your dining area or kitchen. Feel free to spread out throughout your apartment! If you clean ahead of time and temporarily store away items that you may normally have out, you'll find that you have a lot of room to work with.
You could drag your living room furniture to the side and set up a small table for guests while also having your dining table available. Have an island or countertop in your kitchen area? Plenty of guests will actually enjoy standing and eating their horderves or sipping on their drinks while they mingle, so you can utilize this area as well!
Set Your Scene
Once you've mapped out your entertaining space and how best to take advantage of it, you'll want to consider how you'll set the scene. With a few cheap and simple techniques you can set a delightful ambiance for your guests.
Make a nice music playlist ahead of time that you think will appeal to the particular group of guests you're inviting. Instrumental music of some kind is usually best when entertaining more than a few people, as this will make sure that conversations are not interrupted by the lyrics of the song. You can find inexpensive wireless speakers that hook up to your phone online or in many big box stores, and set them to a nice, quiet level to provide musical ambiance at your gathering.
It's also nice to set out some form of greenery in the rest rooms and living areas. You don't have to get real plants for this, plastic ones will work fine, but having flowers or plants strategically placed around your apartment will help set the scene quite nicely for your dinner party.
Finally, finding attractive table settings like napkins, flatware, and dinnerware will help tie everything together! You can find affordable matching sets online or in stores – especially around holidays.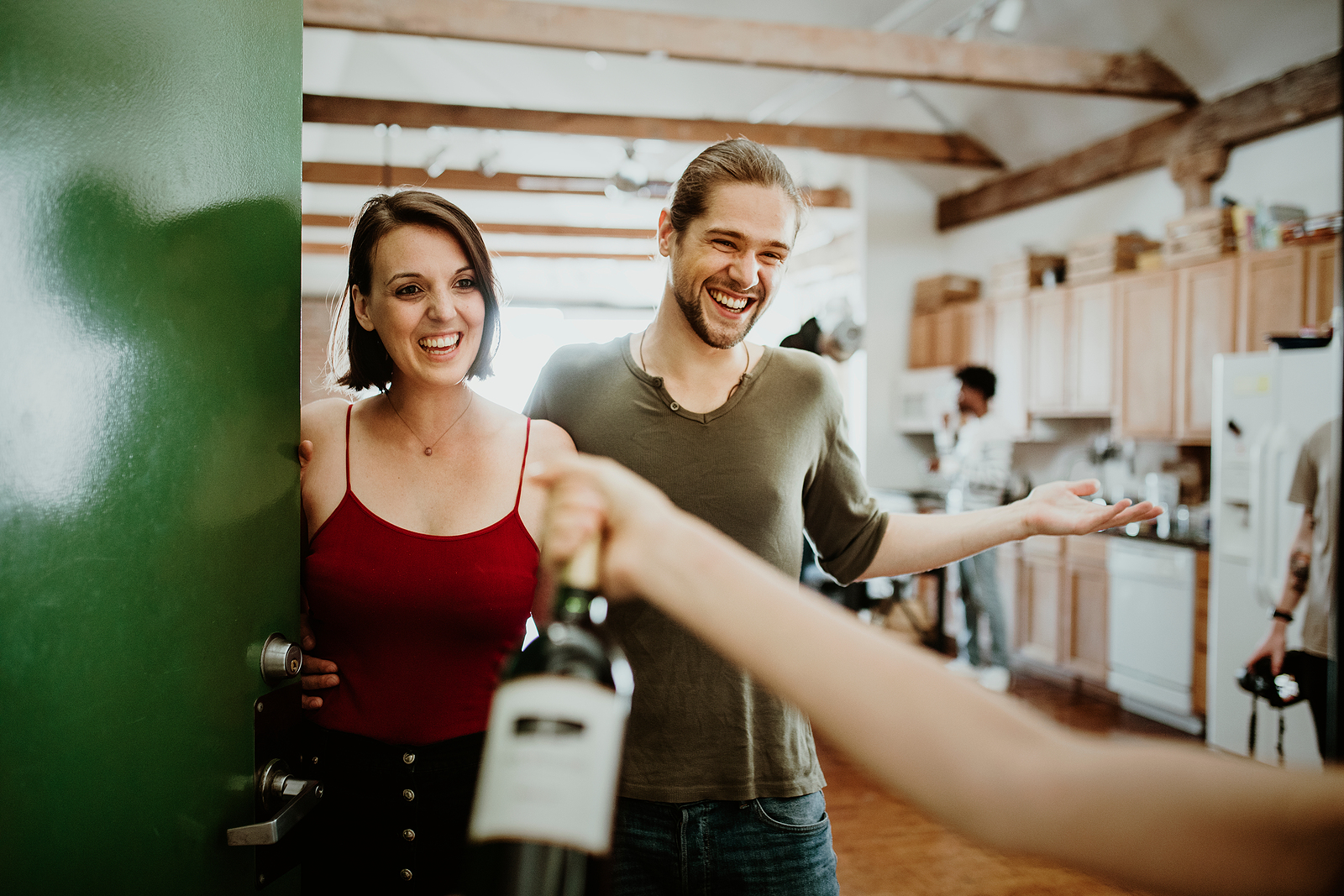 Keep it Simple
Dinner parties don't have to include intense, complicated menus. Finger foods are often a great choice, especially for larger gatherings. Think along the lines of mini quiches, small tea sandwiches, or dumplings.
You can also set out charcuterie boards ahead of time for your guests to snack on before and after the main courses. Cheese, veggies, crackers, and dips are great options for this! If you can, find out your guests' dietary preferences ahead of time so you can know whether or not you'll need to include Vegetarian or Vegan options.
Plan Ahead – and Have Fun!
Like most things in life, a dinner party at your apartment will take some planning. If you start making your plans ahead of time you can ensure that you'll be able to accomplish your goals ahead of time and actually be able to e
Start a week or two ahead of time if you can. Plan out how you'll set up your apartment, and even test how the dinner party set up will feel ahead of time if you're worried. Make your dinner ingredient list ahead of time and gather the recipes you'll need to follow to accomplish it. No time to make your dinner items by hand? Manynjoy your gathering when it happens without worrying about last minute emergencies.
grocery stores will have options to take away, or you can look for small catering companies in your area!
Once you've decided upon your layout, your menu, and you've secured everything you'll need for the dinner party, you'll be able to rest easy. If you've planned everything out ahead of time, once the dinner party is happening you'll be able to really sit back and enjoy the company of your loved ones. Remember to have fun!
Are you looking for the perfect apartment for entertaining?
We hope these tips will help you be able to throw the perfect dinner party in your apartment or smaller space. Are you moving and looking for the perfect community for you and your family to throw future dinner parties in? Contact Syringa Property Management today, we'd be more than happy to help you find the perfect housing community to settle down in.
Syringa Property Management, Inc. is a real estate management company committed to the service of our clients and our customers. It is the goal of Syringa to provide the best possible housing environment for our tenants while fulfilling the goals of the owners.