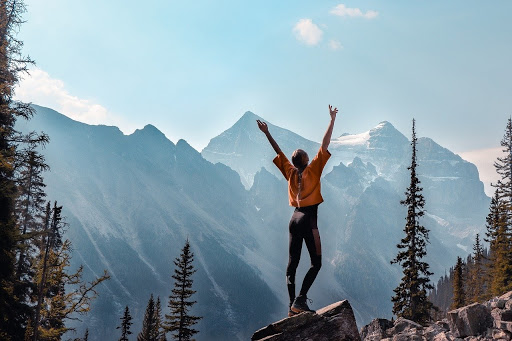 https://pixabay.com/images/id-3959204/
Back in March, no one was expecting a worldwide pandemic to scrap their upcoming vacation plans. However, that doesn't mean summer is completely canceled. Instead, Syringa Property Management has put together a list of fun, safe alternatives to help restore this season's fun and happiness while banishing boredom in the process.
Take A Walking Tour Of Your City
Depending on where you live, many cities in the U.S have some kind of free walking tour you download. If they don't, you can easily map out some local landmarks and interesting spots you'd like to visit. Even the smallest towns have little-known, unique spots. Just remember to wear your mask and keep a safe distance from others while wandering.
Take A Solo (or) Family Hike
Hiking in nature is not only fun and relaxing but free as well! Over the summer, you can take as many hikes as you want. Whether it's a local park, trail, or a national or state park, most cities have some sort of forest or a natural area nearby that you can explore and roam about in.
Host A Virtual Party With Your Friends
Whether it's Zoom, Google Meetup, or Facebook Messenger, you can still hang out with your friends and party! The best part? Nobody has to worry about driving or getting a cab ride home. Instead, you can grab your favorite drink, relax, and enjoy virtual, face-to-face conversations with your friends or family. Socializing is still possible during the pandemic, even if it's through a screen!
Host A Virtual Movie Night
While it's still not possible to meet up with your friends at the movie theater, you can easily get together to watch a movie together virtually, thanks to the app Netflix Party. Simply vote on what movie you all want to watch and enjoy it together in the comfort of each other's homes.
Swim In A Local Swimming Hole
If you're itching to get wet, it's easy to find a local waterway that allows people to safely spread out. In fact, there are plenty of local swimming holes depending on where you live. Just make sure to avoid overly crowded areas and keep a safe distance from other people. Once you find the perfect spot, simply grab your paddleboard or take a quick dip for some classic summertime fun!
Plan A Yummy Picnic
You don't have to spend tons of money on special foods or "picnic" things. Instead, you can grab whatever's in the pantry and combine it with an old blanket to enjoy nature in your favorite park. You can even meet up with friends and safely enjoy a socially distant picnic together as long as you stay over six feet apart. Just make sure everyone brings their own snacks and drinks!
Longboard Or Take A Bike Ride
Like a hike or a city walking tour, you can enjoy the outdoors from a fresh perspective on wheels. A longboard or bike is a faster way to cover more ground but slow enough to take in the sights around you.
Camp In Your Backyard
Got a tent and air mattress stored in the closet or garage? You don't have to plan a faraway trip to the mountains to have some fun and enjoy nature. Instead, you can plan a staycation, and pitch a tent in your own backyard! The best part? You can sneak back inside to sleep or use the bathroom!
Syringa Property Management
If you are looking for an apartment for rent, Syringa Property Management is your team of management professionals offering superior tenant services. With our knowledge and expertise, we promise to provide the best housing environment for our tenants. If you are interested in renting in Arizona, Colorado, Idaho, Montana, New Mexico, North Dakota, Oregon, Utah, Washington, or Wyoming, contact us today to learn more!